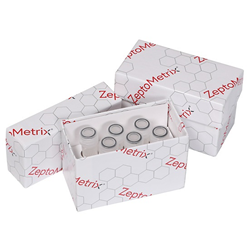 ZeptoMetrix® Launches New Molecular Quality Controls for Women's Health
We are committed to women's health and help clinicians and laboratories improve their patient care.

BUFFALO, NY (PRWEB)
July 14, 2022
ZeptoMetrix, an Antylia Scientific company, today launches two new vaginal molecular QC controls, NATVPOS-6C Vaginal Positive Control and NATVNEG-6C Vaginal Negative Control, for in vitro diagnostic use. They are in stock and available for shipment. These latest third-party molecular controls provide additional confidence in the quality and reliability of clinical laboratory testing.
"We are committed to women's health and helping clinicians and labs improve their patient care," said Evangeline Gonzalez, vice president/general manager of ZeptoMetrix.
The launch of these new women's health checks comes at a time when labs around the world are beginning to move beyond COVID testing. ZeptoMetrix offers a variety of Women's Health and Sexually Transmitted Infection (STI) controls and panels for routine QC testing. ZeptoMetrix's extensive product line helps laboratories adapt new tests by providing easy-to-use refrigerated whole-organism controls designed to quickly and safely ensure test instruments deliver accurate results.
Gonzalez concluded, "As labs expand their testing, ZeptoMetrix stands ready to help with our broad portfolio of women's health, gastrointestinal, and healthcare-associated infections and our combination of influenza/RSV/ SARS-COVID.
Visit http://www.zeptometrix.com for more information on new Trichomonas vaginalis (TV) and related women's health products.
About ZeptoMetrix®
ZeptoMetrix, an Antylia Scientific company, is a recognized industry leader in the design, development and delivery of innovative, quality solutions to the infectious disease diagnostics market. Our expertise and capabilities in molecular diagnostics, including external quality checks, verification panels, proficiency panels, custom and OEM products/services have set the industry standard for performance and reliability and makes ZeptoMetrix the preferred choice for independent third-party quality control materials.
#####

Share the article on social networks or by e-mail: