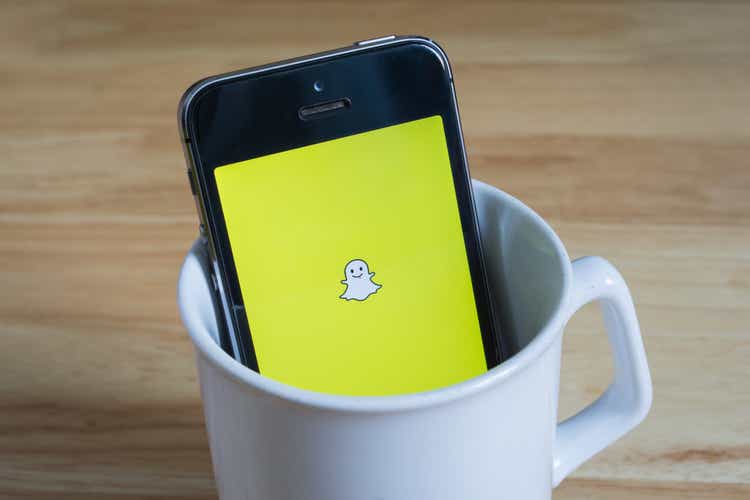 Why did Snap stock plunge today? Darker notes on the economic outlook for ads (NYSE:SNAP)
It's earnings season again, and once again the mind of a young (or not-so-young) tech investor is on… Snap's (NYSE: SNAP) latest results may be setting the stage for another tough quarter for key tech names.
Snap's shock warning in May that it would miss the low end of its second-quarter guidance ended up causing gloom among its peers, a broader group of ad tech stocks, broader tech names and even the entire market.
Now the fear is that very recent history is repeating itself, with big names set to report in the coming week including Microsoft, Apple, Amazon.com, Meta Platforms and Alphabet.
Instant Stock (SNAP) fell more than 39% Friday, falling into the single digits for the first time in more than two years (at the start of the COVID-19 pandemic). The company fell short of its revenue expectations, continued to lose money and, after failing in the second quarter, declined to offer guidance for the third quarter, warning strongly of an economic slowdown In progress.
This prompted a number of downgrades from analysts who used harsh language for their takes, including "ugly" and "remarkably disappointing".
As to whether Snap's predictions are a negative omen for internet advertising rivals – deserved or not – the evidence on Friday seemed obvious: Tying social media results to Snap means the company's report helped wipe out $130 billion in market value. Meta platforms (META) fell 7.6%; Alphabet, partner of the "advertising duopoly", also slipped: (GOOG) -5.8%; (GOOGL) -5.6%; Pinterest (PINS) slipped 13.5%. (Twitter (TWTR) ran a 1% gain even after a loss in earnings, amid a general backlash that the pursuit of Elon Musk means the stock is detached from its fundamentals.)
In advertising technology names, Integral Ad Science (IAS) -10.7%; PubMatic (PUBM) -9.8%; Digital Turbine (APPS) -8.7%; ironSource (IS) -8.2%; The Trade Desk (TTD) -7.3%; Magnite (MGNI) -6.9%; Perion network (PERI) -6.2%; Taboola (TBLA) -5.9%; Innovid (CTV) -5.5%; AppLovin (APP) -5.1%; Viant (DSP) -4.4%; LiveRamp (RAMP) -3.9%.
And Roku (ROKU), closely tied to connected TV ads, ran its own 8.9% slip Friday.
Seeking Alpha's quantitative ratings system marked Snap as a sell on May 17 amid negative ratings on valuation, profitability and declining momentum.