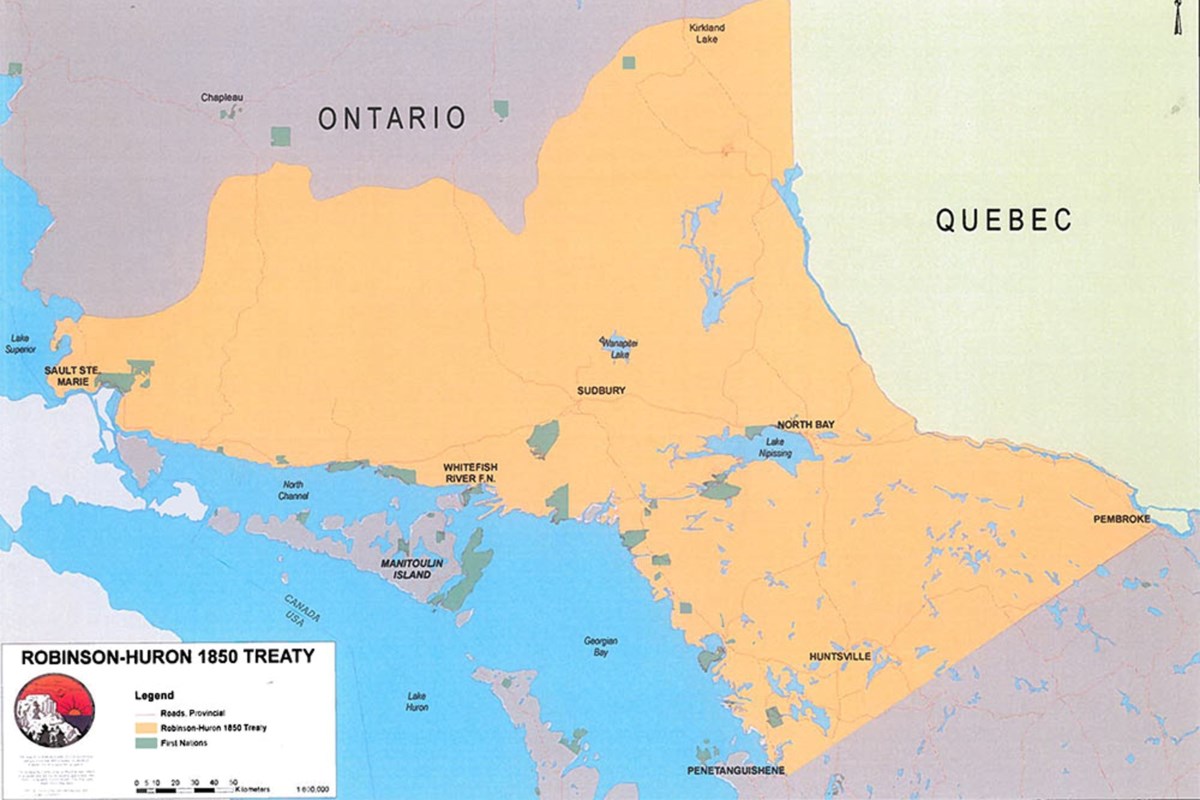 Welfare Economics: How a Unique Economic Model is Applied to the Robinson Huron Treaty
Funding gap between non-treaty citizens and treaty-signers was more than $825 million in 2020, says Alberta economist
While they are still in the preliminary stages of working with economic strategist Mark Anielski, Robinson Huron Waawiidaamgewin, the governing body of Anishinaabe signatories under the 1850 Robinson Huron Treaty, startling discoveries are now being revealed.
Sam Manitowabi, senior policy analyst at Waawiidaamgewin, says the results show a deep disparity between government spending for Robinson Huron Treaty members and the average Ontarian.
In fact, it shows an $825.4 million spending gap between the two groups.
For context, in September 2014, the 21 signatories to the Robinson Huron Treaty filed a lawsuit against the federal and provincial governments, alleging that the Crown had breached a promise to increase the annuity payable to each First Nations member under of the treaty. .
The Superior Court of Ontario ruled in favor of the Anishinaabe in 2018. The federal government accepted this decision, but Ontario appealed and the first and second stages of this appeal took place in May and June 2021, respectively. .
In November 2021, the Ontario Court of Appeal dismissed most of Ontario's appeals and, like the Ontario Superior Court, urged the Crown to settle with the signatory nations
In 2021, this annuity was equivalent to a check for $4 per person.
Calculation of the difference
Anielski is an Alberta-based economist and author who specializes in what he calls "welfare economics." Once named one of Alberta's 50 most influential people, he holds a degree in economics and a master's degree in forestry science, and is the former chief economist of the Indigenous Institute.
Anielski said he calculated total government spending per Ontarian compared to the average Robinson Huron treaty spending per member, both on and off reserve.
Considering spending at all three levels of government (federal, provincial and municipal), he said his results show a program benefit gap of $21,859 per Robinson Huron Treaty member.
According to Anielski's calculations, government spending totaled $30,881 per non-treaty citizen in 2020. Average 2020 spending on programs and services per Robinson Huron Treaty member was $9,021. This represents a program benefit gap of $21,859 per RHT member and a total shortfall of $825.4 million in 2020.
Anielski said he based his calculations on public accounts data for 2020 from federal, provincial, municipal and school program spending statistics that Statistics Canada produces each year. Expenditure data for the Robinson Huron Treaty program comes from their audited financial statements, published on Statistics Canada's First Nations Profiles.
"I've pulled together all of this data for the 21 Robinson Huron Treaty nations into a consolidated financial statement of total program expenditures (operating and capital) by member," Anielski said.
He said he included members living both on and off reserve because all treaty members are entitled to First Nations government programs and services.
The economics of well-being
Robinson Huron Waawiidaamgewin was established in 2019 as a treaty government representing the 21 Anishnaabe signatories to the 1850 Robinson Huron Treaty, a collective Anishinaabe decision-making body designed to protect the interests and inherent rights of their people.
They hired Anielski to help them determine a "database," Manitowabi said.
"We are trying to determine a database to help us determine where we as Robinson Huron Treaty members stand as communities, relative to our other treaty partners," he said. That is, non-Aboriginal Canadians.
Anielski has worked with other First Nations in Canada, using what he calls "welfare economics". Manitowabi said the RHW was impressed with what Anielski considers strengths.
"I don't think I've ever met an economist who had such a holistic approach to their work," he said.
Anielski said he started working with First Nations on a trip to Nunavut in 2003 and was intrigued by the medicine wheel and what it represents. The four colors, the four elements, the four parts of a person: the emotional, spiritual, physical and mental aspects of humanity.
"As an economist, I'm steeped in trying to measure everything," Anielski said. "I became interested in designing a new counting and performance measurement system that would measure the things that make life truly worth living."
He said he designed the approach to go beyond "pure economic output, GDP and profits" and aligned it with traditional laws, such as the Seven Grandfather Teachings of the Anishnaabe.
Anielski said he began to develop ways to measure these four aspects and arrived at a well-being survey first used in Korea, comprising 35 questions specifically asking how community members "feel" in their daily lives.
"The first question would be, for example, on a scale of 1 to 10, how satisfied are you with life today? How happy are you? What joy do you feel," he said.
There are questions about feelings of safety in the community and feelings about access to culture.
Next, Anielski moves on to the five fixed asset accounts on his balance sheet.
Human capital, i.e. the human "assets" within a community, as well as health data; these data are taken from the survey.
Anielski's metric also tracks social and cultural assets. "Trust and belonging factors, relationships, as well as language skills and understanding of the ceremony," he said.
Next, natural capital. "It could be the land, its health, the integrity of the ecosystem, the watershed; how fragmented is it with respect to industrial development, what is the current timber stock? »
It also considers the collective memory of community elders and asks questions about plant, medicine and animal health.
Then there is built capital, the built assets on the land like infrastructure, housing, schools and recreational facilities.
Then, he creates geo-spatial maps of the territory; in the case of the Robinson Huron treaty, this map covers traditional treaty lands, approximately 18.5 million acres.
All of this taken together is the wellness balance sheet, Anielski said, a chance to then make decisions based on strengths and deficits.
These balance sheets can even help provide a more holistic view of where to spend to get a better return on investment.
"We ask people what they want in housing, not just what they need; then we build a capital plan based on that," Anielski said.
Manitowabi said continuing consultations with Anielski will help Robinson Huron treaty members make better decisions for their communities.
"I think it will mean movement towards community well-being," he said. "Every day our members travel through these urban centers and see a number of services that are not available in their own communities. Sagamok residents travel to Espanola for medical services; paramedics, firefighters and even infrastructure services, such as sidewalks and adequate streetlights. Not to mention recreational facilities like playgrounds and parks.
He also said that includes schools and drinking water.
"It's 2022 and it's still a big deal," Manitowabi said. "Clean water, equal funding for education and health services, and access to health and mental health services."
You can read more about Robinson Huron Waawiidaamgewin here.