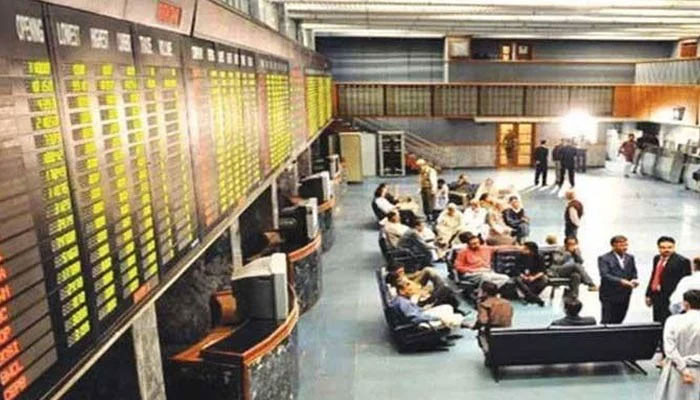 Stocks End Up Before Mini-Budget, Blue-Chip Stocks Shine
Shares rose on Thursday, led by gains in fertilizers, cement and financial stocks, although trading volume fell sharply on the eve of the IMF's supplementary budget, traders said.
The Pakistan Stock Exchange's benchmark KSE-100 (PSX) gained 156 points or 0.35% to close at 44,416 points from 44,260 points in the last trading session.
The volume traded decreased to 43 million shares from 271 million shares traded in the previous session.
The market value showed an upward trend to reach 10.341 billion rupees from 8.156 billion rupees while the market cap climbed to 7.621 billion rupees from 7.592 billion rupees.
Out of 373 trade certificates, 202 posted gains, 149 turned negative and 22 remained unchanged.
"Pakistani stocks started the day on a positive note as the market remained in the green zone throughout the day," brokerage firm Topline Securities said in a post-trade note.
"Investors showed interest in blue chip stocks before the end of the year and the benchmark peaked at 44,590 points intraday before settling to a low."
The brokerage said stocks in the tech, fertilizer and banking sectors led the show, where TRG, Engro, SYS and UBL totaled 140 points.
Cabinet had approved a supplemental or mini budget to end sales tax exemptions and levy new duties to secure $ 1 billion in funding from the IMF.
The IMF agreed to relaunch Pakistan's financing program but demanded further fiscal tightening before the next tranche can be approved.
Brokerage firm Arif Habib Limited said the index remained in the green zone before the mini-budget.
"The cement sector remained in the limelight as it recovered in the first hour of trading due to the reduction in international coal prices."
He added that MEBL in the banking sector has remained in the limelight as the State Bank of Pakistan (SBP) first introduced Sharia-compliant liquidity facilities for Islamic banking institutions.
to enable them to offer better returns and rates to their clients on deposits and loans.
Additionally, activity continued to remain sideways as the market recorded significant volumes in Tier 3 stocks.
Sectors contributing to performance are technology and communication (+79 points), commercial banks (+60 points), fertilizers (+44 points), cement (+32 points) and tobacco (+16 points) .
Inventories that contributed significantly to volumes include KEL, TREET, TRG, CNERGY and PRL
Brokerage JS in its market research noted that the bulls made a comeback and the index ultimately closed at the 44,416 level, gaining 156 points.
JS said traded volumes were 243 million shares, where KEL (0.9%), TREET (3.0%), TRG (3.2%), CNERGY (-3.3%) and PRL (2.1%) cumulatively contributed 33% of total volumes.
He recommended that investors take advantage of any inconvenience to buy in the banking, E&P and cement sectors.
Sapphire Tex gained the highest Rs78.80 in share value to close at Rs1072 followed by Sapphire Fiber recorded Rs57 increase in share value to settle at Rs972.
The biggest drop was seen at Colgate Palm, which saw its value drop by almost Rs 178, followed by Rafhan Maize whose share value fell by Rs 100.