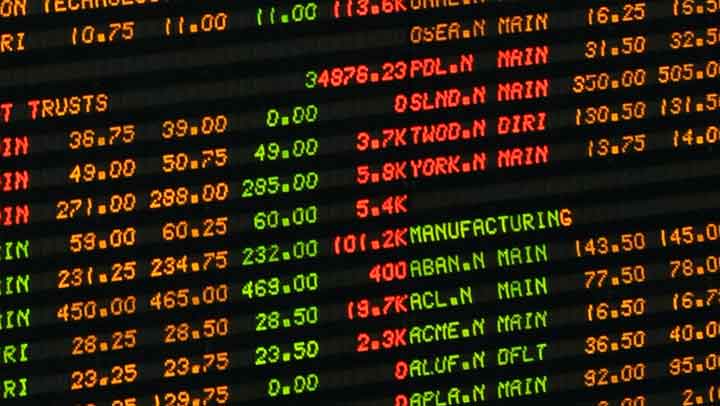 Sri Lanka stocks plunge to two-week low on economic woes
ECONOMYNEXT – Sri Lanka's stock market fell to a two-week low on Tuesday (25) due to uncertain macro conditions, brokers said, amid record inflation, depreciation pressure on the rupee and the government's stubbornness in not asking for help from the IMF to deal with the debt crisis.
The main All Share Price Index (ASPI) closed down 1.30% or 173.94 points on Tuesday to close at 13,210.17 points, its lowest since January 12.
Brokers said the index recorded the highest intraday loss in almost 2 months.
"The stock market ended the session in the red zone…due to heightened investor skepticism over the prevailing uncertain macro-economic conditions," Firstcapital Market Research said in its daily market note.
"…the market failed to resist and fell continuously as the day progressed as investors resorted to taking profits in selected counters…"
The most liquid index S&P SL20 fell 1.99% or 92.09 points to 4,534.94.
Turnover for the day was 6 billion rupees, lower than this year's average of 8.1 billion rupees.
Analysts said investors were worried about a possible depreciation of the currency, the government's ability to avoid a sovereign debt default and fuel shortages hitting factory manufacturing and thus affecting future profits. .
December inflation hit a record 14% year-on-year on a national index, increasing the negative yield on term deposits. The central bank raised policy rates by 50 basis points last week, but market analysts say the hike was not enough to rein in inflation which surged due to the bank's money printing central.
Foreign investors, very worried about a possible sharp depreciation or devaluation of the currency, sold a net amount of 170 million rupees, extending the foreign sale of 2.5 billion rupees so far this year. In 2021, the Sri Lankan stock market suffered a net foreign outflow of Rs 50 billion.
Along with the increase in policy rates, the central bank also announced last week measures to increase dollar liquidity by requiring registered tourist hotels to charge foreigners only in foreign currencies and extending the incentive program to remittances.
Despite better earrings expected in the December quarter, continued fears of currency depreciation had weighed on overseas investor sentiment. Listed companies started reporting earnings from this week.
The government and central bank have said they will not seek IMF assistance to deal with the current debt crisis where Sri Lanka has to pay $6.9 billion in external loans this year as it had only $3.1 billion in official reserves.
On Tuesday, Expolanka Holdings, LOLC Holdings and Commercial Bank dragged the index lower.
Expolanka, the market heavyweight which owns export and freight business, fell 3.41% to close at 382.25 rupees per share, LOLC Holdings fell 1.76% to close at 1,299.00 rupees per share and Commercial Bank fell 2.01% to close at 82.80 rupees per share.
John Keells Holdings, which posted its December quarter profit up 44%, fell 0.93% to end at 160.50 rupees per share. (Colombo/January 25, 2022)