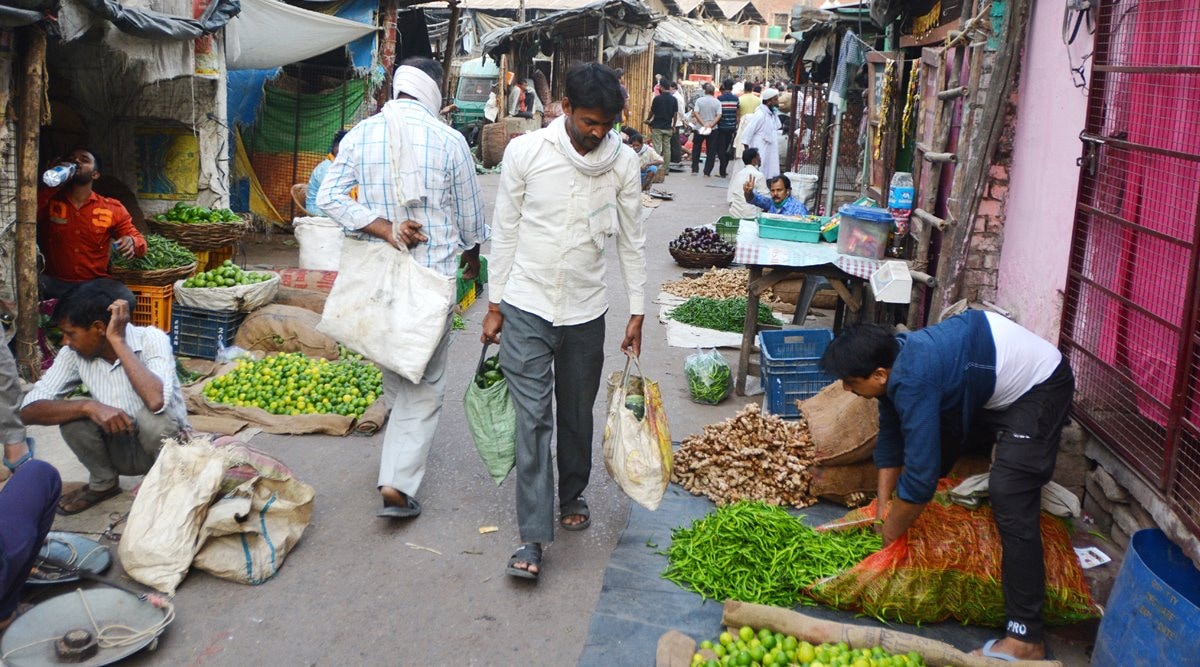 Rain damage, poor product quality push up the prices of onions and tomatoes
[ad_1]
The prices of onions and tomatoes have seen a steady but strong increase over the past two months. After heavy rains in September and October which severely damaged crops ready to be marketed, arrivals and product quality were affected, pushing up prices.
This is the first time this year that vegetables have seen a good rise in prices on the wholesale and retail markets.
Since late August, heavy rains in Maharashtra and Karnataka have caused extensive damage to crops sown in June or July. Heavy downpours in September and early October saw the same crop take more damage just as farmers prepared to harvest their produce after Diwali.
Farmers had also reported damage to their produce stored, harvested in April-May and known as rabi or unhali kanda. The overall availability of onions had started to decline since the end of September.
Data from the Ministry of Food, Public Distribution and Consumer Affairs website shows that retail prices for onions and tomatoes have risen significantly in the past month. The price of onion in Delhi, which cost Rs 33 / kg in September, has since hit Rs 47 / kg in the national capital.
The price escalation has been more pronounced in the case of tomatoes, with Delhi markets now retailing the kitchen staple at Rs 59 / kg, up from Rs 28 / kg a month ago. In some places across India, onion prices have reached or exceeded Rs 50 / kg while tomato prices approach Rs 60 / kg.
At Lasalgaon wholesale market in Niphad taluka, Nashik district in Maharashtra, the average price of traded onions has been rising since the third week of September. Prices, which for most of the year were around Rs 1,500 to Rs 1,600 / quintal, topped Rs 3,300 / quintal.
Suresh Deshmukh, a commission agent operating from Dindori taluka in Nashik, said the new arrivals were of poor quality as well. "These onions don't have a lot of market value and the only marketable onion now is the stored onion, which the farmers unload," he said.
The National Federation of Agricultural Marketing Cooperatives commissioned MahaFPC to purchase and store 1.82 lakh tonnes of onions as buffer stock. MahaFPC has so far offloaded 50% of the stock with the rest to be sold by November 15th. Currently, MahaFPC delivers to the markets of Mumbai, Kanpur, Patna, Ranchi, Chennai, Bijapur and Lucknow. Sources said the onion supply is likely to be further affected once MahaFPC's stock is depleted.
In the case of tomatoes, the average price negotiated on the Kolar market in Karnataka exceeded Rs 3,000 to Rs 3,500 / quintal. Traders in Kolar said the September rains had damaged crops in the area.
"The current trend is expected to continue until the end of December. Prices will also increase as demand increases following the relaxation of restrictions on Covid-19, "Deshmukh said.
[ad_2]