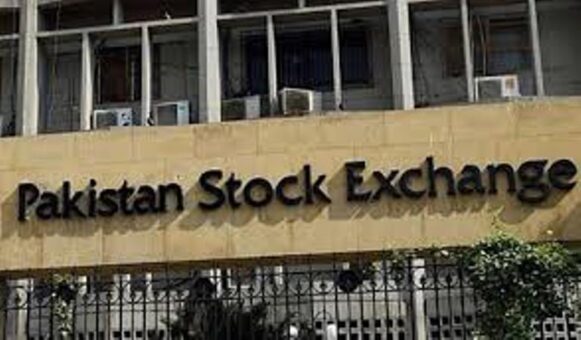 Pakistani stocks plunge 308 points on profit taking
KARACHI: Pakistani stocks plunged 308 points on Friday as investors preferred to take profits on the last trading day of the week.
The benchmark KSE-100 of the Pakistan Stock Exchange (PSX) fell to 40,620 points from the previous day's close of 40,928 points, posting a decline of 308 points.
READ MORE: Stocks remain under pressure due to political noise
Analysts at Arif Habib Limited said the market had a mixed session as bulls and bears battled for dominance all day.
The opening session was a positive move as the Rupee broke its losing streak against the US Dollar.
READ MORE: Pakistani stocks plunge for 4th consecutive session as PKR slide continues
During the second session, investors opted for profit taking in the last hour which caused the index to lose 373.96 points. Volumes remained dry across the board, while strong volumes were seen in third tier inventory.
The sectors contributing to performance are Banks (-112.1 points), Cement (-38.4 points), Energy (-36.2 points), Technology (-31.4 points) and Fertilizers (-30.3 points).
READ MORE: Pakistani stocks extend losses on PKR's free fall against the dollar
Volumes fell from 190.0 million shares to 164.4 million shares (-13.5% DoD). The average value traded increased by 8.6% to US$28.6 million from US$26.4 million.
Stocks that contributed significantly to volumes were HASCOL, TRG, KEL, CNERGY and WTL.
READ MORE: Rupee Ends Near All-Time Low; The dollar gains 239.65 PKR