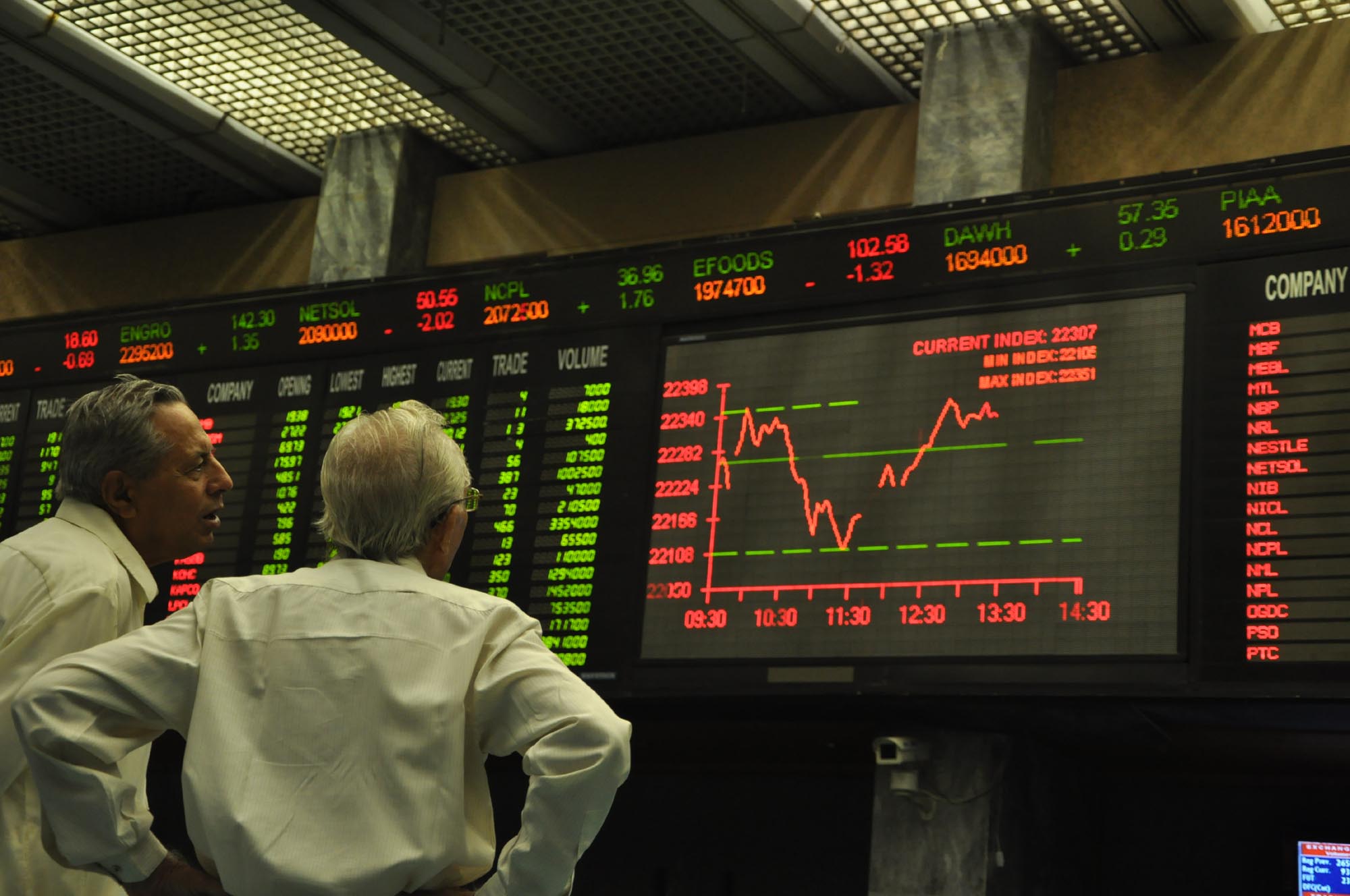 Pakistan Stock Exchange loses 94 points
The Pakistan Stock Exchange (PSX) remained bearish ahead of Monday's Monetary Policy Committee (MPC) meeting, with the benchmark KSE-100 losing 94.37 points (-0.21%) to close at 44,923, 91 dots.
The market experienced a low volume, lackluster and range limited trading session. It flipped between green and red territory for the first 1.5-minute minutes of the session, then remained negative for the rest of the session.
A $9 billion current account deficit for the first half of the current fiscal year, rising import bills, soaring global energy and commodity prices also weighed on investor confidence, in addition to interest rate uncertainty ahead of the MPC meeting. However, as expected, the State Bank of Pakistan kept its key rate unchanged at 9.75%, which should provide a positive boost to the market on Tuesday, as the MPC meeting ended after the end of Monday's session.
The KSE-100 index traded in a range of 247.09 points, posting an intraday high of 45,044.51 points and a low of 44,797.42 points. Among other indices, the KSE All Share Index lost 92.34 points (-0.30%) to close at 30,786.28 points, while the KMI All Share Islamic Index lost 47.06 points (- 0.21%) to close at 22,164.7 points.
The article continues after this announcement
A total of 346 companies traded shares on the stock exchange, including 100 shares closed, 230 shares closed while the shares of 16 companies remained unchanged. Of 90 companies listed in the KSE-100 index, 30 closed, 58 closed and two remained unchanged.
Overall market volumes decreased from 15.92 million to 160.21 million shares. Total traded volumes for the KSE-100 index decreased by 1.33 million to 88.54 million shares. The total number of transactions decreased from 14,868 to 84,087, while the value traded decreased from 1.33 billion rupees to 5.74 billion rupees. Overall, the market capitalization decreased by Rs23.12 billion.
Among scripts, CNERGY leads in volume with 25.46 million shares, followed by TRG (21.13 million) and HASCOL (11.82 million). Stocks that contributed significantly to volumes included CNERGY, TRG, HASCOL, WTL and HUMNL, which accounted for approximately 47% of total volumes.
In terms of rupees, SAPT remained the main gainer and saw an increase of Rs75 per share, closing at Rs1,124 while the second was SIEM, whose share price climbed from Rs21.84 to Rs660. UPFL remained the big loser in terms of rupees and registered a decline of Rs152 per share, closing at Rs2o 847, followed by PMPK, whose share price fell by Rs30 to close at Rs770 per share.
The sectors pulling the index to the south are technology and communication with 72 points, cement (25 points), commercial banks (17 points), refinery (14 points) and engineering (9 points). The most points removed from the index were by TRG which removed the index by 53 points, followed by SYS (17 points), HBL and UBL (12 points each) and CNERGY (7 points).
The sectors pulling the index north were fertilizers with 49 points, oil and gas marketing companies (12 points), power generation and distribution (7 points) and mutual funds and insurance closed (3 points each). The most points added to the index were FFC which contributed 24 points followed by EFERT (22 points), PSO (15 points), HUBC (13 points) and MCB (12 points).