Blue chip stocks to buy for long-term gains as market hits new lows
Stocks continue to fall as Wall Street increases selling in response to heightened fears about slowing economic growth. The S&P 500 hit new 52-week lows on Monday. In fact, the benchmark is now trading at its lowest levels since November 2020, with a recession more likely as the US Federal Reserve and major central banks around the world raise interest rates to fight the surge. of inflation.
The Fed and Jay Powell are willing to do anything they can to bring prices down and are willing to cause economic hardship to do so. The Fed's 0.75% hike last week and its efforts in November and December should lift the fed funds rate to between 4.25% and 4.5% by the end of 2022.
The Fed's aggressive actions and outlook, coupled with a flight to safety from investors around the world, propelled 10-year and 2-year US Treasuries to levels not seen during the financial crisis. Yields on the 10-year jumped to around 3.9% on Monday, from 3.5% at the mid-June market lows and 1.6% at the start of 2022. The 2-year is floating at 4.4%, from 0.80% at the start of 2022 and 0.30% this time last year.
Higher rates affect equity markets in various ways. High yields make safe investments such as bonds more attractive, while reducing what investors are willing to pay for risk in the form of valuation multiples, and more.
Higher interest rates have already significantly cooled the housing market and crushed growth-oriented stocks. Moreover, the overall earnings outlook for the S&P 500 is already moving strongly in the wrong direction as higher rates and prices cool economic activity and eat away at growth and earnings.
Image source: Zacks Investment Research
The fact that noticeably weaker growth is already showing in the earnings outlook and that interest rates are reacting to the Fed's hawkish stance can be seen as a positive for longer-term investors looking to find points. solid entry into solid stocks. Now, it is impossible to call a market bottom in real time and stocks could continue to fall.
Fortunately, investors with long-term horizons shouldn't be afraid to start small positions in blue-chip stocks amid economic headwinds. The United States will rebound and economic activity will continue even during recessions. And always remember that many people are more enthusiastic about buying stocks near the top of the market and are afraid to buy at what, in retrospect, turns out to be the bottom.
Here are two blue-chip stocks investors might consider adding to their long-term portfolios as the market falls to fresh 52-week lows.
Intuit Inc. INTU
Intuit's growing portfolio includes online tax help giant TurboTax, as well as accounting software, small business money management tools, personal finance offerings and more. Intuit has spent the past few years expanding its portfolio even further with two major acquisitions. INTU purchased personal finance portal Credit Karma in December 2020 and Mailchimp last November.
The addition of Mailchimp, which also provides digital advertising services and customer relationship management tools, expands Intuit's reach into entirely new pockets of the economy. The diversified portfolio helps Intuit provide more offerings to its small and medium-sized business customers and grow its customer base. Intuit now has over 100 customers worldwide.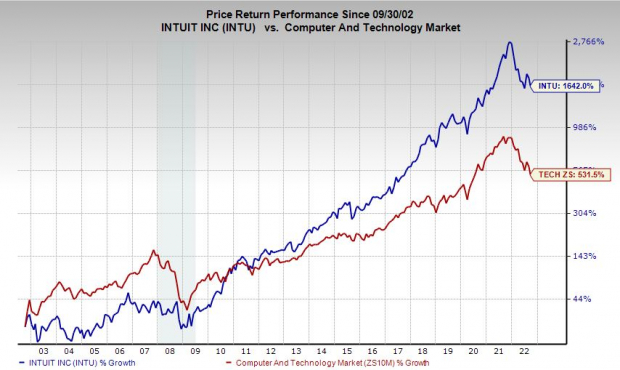 Image source: Zacks Investment Research
Intuit has consistently increased sales over the past 20 years, with only two small year-over-year declines. This series includes sales growth of between 11% and 32% over the past seven years. The company's FY22 (period ended July 31) adjusted earnings climbed 22% on sales up 32% (24% excluding Mailchimp). INTU's estimates for FY23 and FY24 have held up well since their August 23 release as its management teams remain optimistic.
Zacks estimates that Intuit's sales will climb 14% in FY23 and 13% next year to help boost its adjusted earnings by 16% and 15%, respectively. The growth outlook underscores how crucial Intuit's portfolio remains in the face of a wide-ranging economic downturn. INTU's earnings estimates have held up well to earn it a No. 3 (hold) Zacks rank.
Intuit has not remained above sales, which has particularly affected growth-oriented companies. INTU shares have fallen 45% below their 2021 highs. But the stock is still up 175% over the past five years to crush the 55% and 575% of the Zacks Tech sector over the past decade.
The sell-off, combined with its strong earnings outlook, has significantly recalibrated its valuation. Intuit is still trading at a significant premium to the tech sector at 42.1X forward 12-month earnings versus 19.1X. But that puts INTU near its own 10-year median.


Image source: Zacks Investment Research
Intuit's tax and other software offerings should remain vital during periods of economic expansion and contraction. The company has a strong balance sheet and pays a dividend, which it recently increased by 15%. The INTU also approved an additional $2 billion in share buybacks to bring its current authorization to $3.5 billion.
Intuit stock is trading 50% below its current Zacks consensus price target. And Wall Street remains extremely bullish on the stock, with 16 of the 17 brokerage recommendations Zacks racking up at "Strong Buys." Therefore, investors might consider starting a position in the diversified software stock despite the economic turmoil.
Mastercard Incorporated MA
Mastercardi is a consumer and business credit card powerhouse that operates an elaborate backend processing network. In addition to its core credit card segment, MA is actively diversifying to help transform the company into a financial technology titan designed to thrive in a digital payments economy alongside Block SQ, major Wall Street banks. and countless upstarts.
Some of Mastercard's more recent efforts include cryptocurrency, buy-it-now, pay-later offers, and other efforts focused on the future of an economy primarily based on digital transactions. Mastercard's core credit card segment remains strong, with its cross-border travel-focused segment thriving despite fears of an economic downturn. The company beat our second-quarter EPS and sales estimates at the end of July as "overall consumer spending remained robust."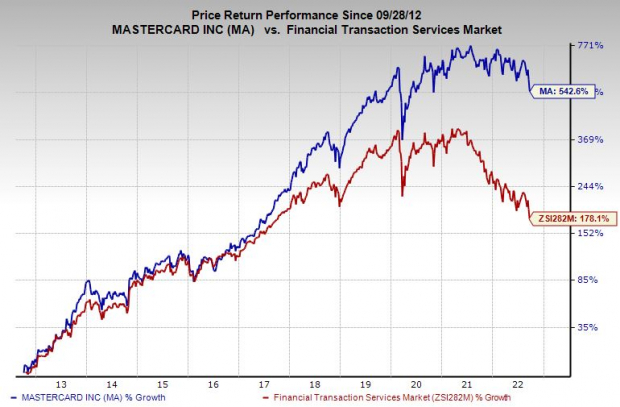 Image source: Zacks Investment Research
Mastercard provided an optimistic forecast at the time, as people continue to spend big despite high inflation for 40 years. It's also key to remember that high-income customers make up a large portion of retail spending and are much less affected by 8% inflation. In fact, Mastercard managed to raise its FY22 outlook last quarter as inflationary pressures "have yet to have a meaningful impact on overall consumer spending."
Mastercard's revenue in 2021 jumped 23% to surpass its pre-pandemic totals by $2 billion. Meanwhile, its adjusted earnings for FY21 soared 31%. Zacks estimates forecast an 18% increase in sales in 2022 and an increase in revenue of more than 16% in FY23 to $25.89 billion. Mastercard's adjusted EPS is expected to grow 27% this year and another 19% in 2023.


Image source: Zacks Investment Research
Mastercard's ability to increase sales and profits by doubling the rate of inflation is exceptional. And it's only managed to beat our EPS estimates once in the past five years. The company increased its quarterly dividend by 11% last year and still has $6.7 billion remaining on its current share buyback plan. Mastercard currently earns a Zacks Rank #3 (Hold) and 12 of Zacks' 17 brokerage recommendations are "Strong Buys" with three more "Buys" and two "Holds".
Mastercard shares had held up better than many other high-growth stocks in 2022 until they crashed alongside most of the market in mid-August. MA shares are down about 20% since Aug. 15 to close regular trading Monday at $290 per share. These levels offer a 42% upside to Mastercard's current consensus price target on Zacks.
The recent downturn has readjusted Mastercard's valuation, with MA now trading near its covid lows at 24.2x 12-month forward earnings. MA's forward P/E marks a discount of 25% from its own five-year median and 10% from its ten-year median. The stock is trading at these levels even though Mastercard shares are still up 110% over the past five years and 1,800% over the past 15 years.
5 shares ready to double
Each was handpicked by a Zacks expert as the #1 preferred stock to earn +100% or more in 2021. Previous recommendations have skyrocketed +143.0%, +175.9%, + 498.3% and +673.0%.
Most of the stocks in this report fly under the radar on Wall Street, which provides a great opportunity to get in on the ground floor.Today, check out these 5 potential home runs >>
Want the latest recommendations from Zacks Investment Research? Today you can download 7 best stocks for the next 30 days. Click to get this free report
Mastercard Incorporated (MA): Free Inventory Analysis Report
Intuit Inc. (INTU): Free Inventory Analysis Report
Block, Inc. (SQ): Free Stock Analysis Report
To read this article on Zacks.com, click here.
The views and opinions expressed herein are the views and opinions of the author and do not necessarily reflect those of Nasdaq, Inc.